Important
Announcement:
2018
1st
Quarter
Dividend
Distribution
By
Gentai
Capital
Corporation
Dear shareholders of Genesis MIC,
Genesis Mortgage Investment Corporation (Genesis MIC) is pleased to announce in Vancouver on January 12, 2018 that our Board of Directors have decided that the first quarter dividend of 2018 continues to be CAD0.02/unit. The dividend shall be deposited to your account on January 15, 2018, covering the interest from October 1, 2017 to December 31, 2017, a total of 92 days. Please check your bank account for dividend payment. Online access to your personal account information is also available at www.gentaicaptial.com. If there are any questions, don't hesitate to contact us!
Key Financial Data
In the first quarter of 2018, Gentai Capital Corporation has maintained stable and remarkable growth, and continues to deliver to its shareholders an annual interest rate of 8% and an annual compound interest rate of 8.24%, making it the 21st distribution of stable cash flow for its shareholders since its inception. The total amount of this quarterly distribution is CAD1,455,256.43, the 21st distribution of regular dividend in addition to one distribution of special dividend. Up to December 31, 2017, cumulative dividend distributed has reached CAD14,002,651.80.
21 Consecutive Regular Distributions and 1 Special Distribution by Genesis MIC
(Up to December 31, 2017)


Quarterly Business Review
Mortgage Portfolio: CAD81,650,000.00
By Property Location:A diversified geographical coverage to minimize risks.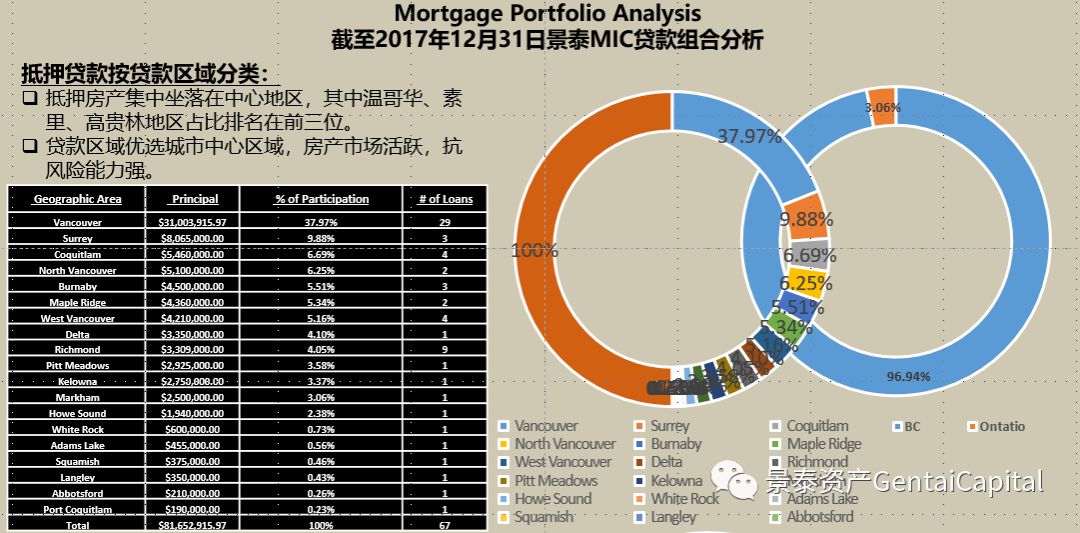 By Loan Type: Single houses, townhouses, condos, commercial properties, building and construction loans, among which single houses account for more than 45%. Diversified investment reduces risks.

By Loan Interest: Average loan interest of 10.64% for the 1st quarter, an increase of 0.5% over the previous quarter; diversified interest rates, mostly ranging from 8% to 12%
---
Valuable Investment·Capital Preservation and Wealth Building
Cashing in on years of lending experience and extensive lending channels, Genesis MIC lends in major urban centres where stability and liquidity of real estate are strong. We focus on loans that cannot be obtained from large financial institutions but comply with our lending guidelines to fill the lending gap caused by the limited number of financial institutions operating in Canada. When reviewing loan applications, we focus on borrower's credit standing, personal background, and assets as well as location and value of the mortgaged property. Within the scope of our conservative and prudent lending policy, Genesis MIC, on one hand, provides owners and buildings of all types of residential and commercial properties in Canada with fast, flexible, and customized short-term mortgage solutions, including term, bridge, and construction financing, to help borrowers with property purchasing, refinancing, property renovation, project development or construction financing, and on the other hand, provides individual and institutional investors with low-risk, high-return mortgage investment opportunities by issuing short-term 100% high-quality property secured mortgage loans, focusing on high-asset borrowers, rigorous controlling of loan-to-value ratio, pursuing a national-wide lending initiative, and maintaining an investment portfolio diversified by size, geography, and property type.
Our strategy is to expand our business in an orderly fashion by gradually enlarging our geographical coverage and focusing on low-risk properties. Up to now, we lend not only in British Columbia but also in Alberta and Ontario, making solid steps towards our goal to lend throughout Canada. Genesis MIC's mandate is to achieve capital preservation and deliver reliable, safe, continuous higher-than-average return to our investors through quarterly distribution of regular cash flow.
On behalf of the elite team of Gentai Financial Group, we express our sincere thanks to you for your staunch support. Should you need more information, please contact our Investment Division for Ms. Anya Han at 604-767-5880 or Mr. Michael Chen at 604-762-6266 or visit our website: www.gentaicapital.com.